See on Scoop.it – IndependentYoga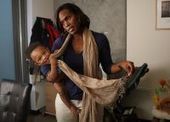 San Francisco Chronicle
Cal professors live in dorms to help students connect
San Francisco Chronicle
While pregnant with Jackson, her 9-month-old, Mujahid offered a yoga class and found herself huffing and puffing, swollen feet visible to all.
Brian Castellani's insight:
Here you are, 36 years old with a fabulous job in Berkeley, a loving husband, two daughters and a baby boy.
And you do what? You live in a freshman dorm?
"It's loud," admitted Mahasin Mujahid, an assistant professor of epidemiology at Cal. "But we're louder!" She laughed.
Mujahid and her family moved into Slottman dorm in UC Berkeley's Unit 1 residence hall three years ago. This week, more than 1,100 new neighbors joined them.
It's not that Mujahid is nostalgic for life among half-grown hordes who thrive on energy drinks, thumping music, cheap food and other shareable fare. Nor is she a lab rat testing the limits of tolerance.
Mujahid and four other brave professors constitute Cal's Resident Faculty program, created to humanize the intimidating figures at the lectern.
"We eat in the dining commons as a family a couple of times a week," Mujahid said. "It allows students to see us as people."
That's a big deal at the huge brain factory that is Cal. Nearly 36,000 students want to make the best of their experience, and connecting with professors can help.
"For most freshmen coming from high school, faculty can be very daunting," said Marty Takimoto, a director in student services.
See on www.sfgate.com