See on Scoop.it – IndependentYoga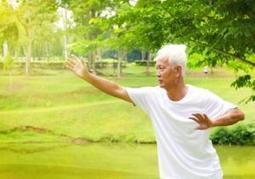 Curious to try qigong? The ancient Chinese healing technique dates back more than 4,000 years — and as more eyes are turning to China and interest in alternative medicine mounts, the trend is going global.
Brian Castellani's insight:
More than 80 million people reportedly practice qigong in China, and foreign interest is growing. The Chinese Health Qigong Association has a reported more than 50 organizations outside China in 29 countries.
What it is: Qigong (pronounced "chee-gong") is made up of two Chinese words. Qi is usually translated to mean the life force or vital energy that flows through all things in the universe. Gong means accomplishment, or a skill that is cultivated through steady practice. Together, the two words mean cultivating energy to maintain health and increase vitality.
What it looks like: The practice involves a series of exercises and postures, such as slow, circular movements, all while employing regulated breathing, focused meditation, and some self-massage.
Read more: http://www.nydailynews.com/life-style/health/qigong-chinese-yoga-mainstream-article-1.1418040#ixzz2bPOKskC0
See on www.nydailynews.com