See on Scoop.it – IndependentYoga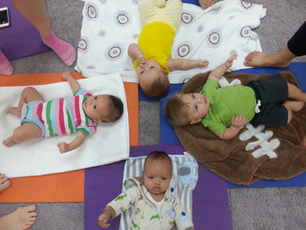 Full of Joy Yoga offers children fun yoga classes that will help develop strong, flexible bodies while cultivating a lifetime of joy, peace and wonder.
Brian Castellani's insight:
Mom & Baby Yoga – Mom and baby yoga classes are designed specifically for new moms and their pre-crawling infants and offer an amazing opportunity for playful interaction. The Mommy and baby yogaclass will offer poses that enhance bonding, offer babies the opportunity to explore movement through infant massage and to build trust through physical contact. Moms can rebuild strength, flexibility and tone the abdomen.
Baby yoga class will help you move in a yogic rhythm with your child, being fully present in each moment and letting go of the expectation of how things are supposed to be in this precious time. This class is for 6 weeks – pre-crawlers.
Yoga for Preschoolers (2.5-4) – These classes are designed especially for the imaginative preschooler. Props, games, music, songs all come into play to enhance language development, motor coordination and play skills. We do the standard yoga poses but with a fun little twist. You may find us taking trips to the zoo, into outer space or the beach. Each class consists of active poses and then a relaxation.
Yoga for School Age (5-9) – These classes explore yoga poses, breathing exercises, visual imagery and relaxation techniques to help convey lessons in self-expression, body image, social skills, positive thinking and environmental awareness. We use props, games, partner poses, storytelling and music to help engage the enthusiasm of these school age kids.
Yoga for Special Needs – We use an integrated approach that addresses the physical, social-emotional and learning strengths and challenges of the whole child. The FOJY yoga classes support a child's natural development and positive sense of self in a gentle, safe and fun environment. Benefits include: increased attention, focus and concentration, building self-esteem and confidence, developing strong muscles, strengthening hypotonic body parts, loosening tight limbs, fostering language and interpersonal skills.
See on www.fullofjoyoga.com